November 12, 2010 | In the Vineyard | Alan Baker
Tea Leaves and/or Grape Leaves Fall in the Vineyard
Fall in wine country is a magical time. Once you finally have your grapes harvested, through fermentation and into barrel, you can once again look upon the vineyards and not be anxious about what is coming. Will we see scalding heat, rain, frost, or some other crazy event that can't be predicted?
We are lucky here at Cartograph because we work with Pinot noir and Gewürztraminer. These are two varieties that come in rather early in the harvest window, which keeps us from battling rain and frost in most seasons. We've been barreled down for several weeks now.
We're still making winery visits but not everyday, and the visits are more about checking how the wines are settling down and comparing notes with other winemakers about how this year compares with last, etc. It's also a beautiful time to take in the gorgeous views of the changing colors of the vineyards.
You can tell a lot about a vineyard by looking at the canopy as it goes dormant for the winter. You can tell if the vines are stressed and maybe are in soil that needs amendment. Places of excessive vigor or blight become obvious, and vines that are infected with virus stick out as they turn bright red before any vines around them change color. You can even tell when blocks were picked based on the color of the canopy.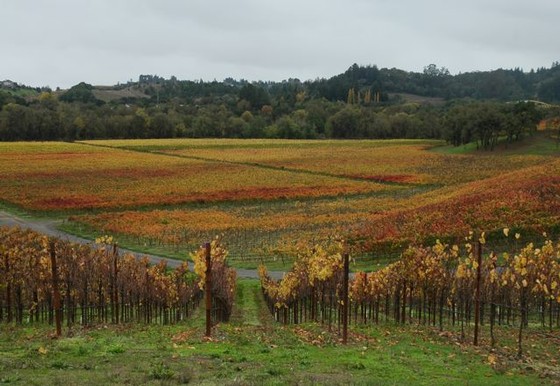 The picture above shows the many fall shades of Floodgate Vineyard in the Russian River Valley. This is a good example because Floodgate has different grape varieties and different clones of the same grape varieties planted right next to each other. You can see abrupt changes in canopy color. In some instances this is simply a change in grape variety or clone but you can also see contiguous blocks of the exact same grape that have very obvious differences in color. This is due to when the grapes were picked. Grape vines seem to know when they have completed their work for the year. After you pick grapes from a vine, the vine starts to shut down for the year. The most obvious symptom of this is the sudden shift in the color of the leaves. It's like they held the smile just long enough for the camera to pan away. Then their time in the spotlight is over and they can rest.
I love this vineyard. And now that we've walked the vines for a few years, I'm starting to be able to read the leaves a bit to learn what the vines are trying to tell us with this display. (Other than they are some amazingly beautiful creatures) Now we wait for the flood-waters to rise so we can go kayaking in the vines.
Cheers,
Alan
Comments
Commenting has been turned off.