July 26, 2011 | In the Tasting Room | Alan Baker
July Facebook meetup was a blast!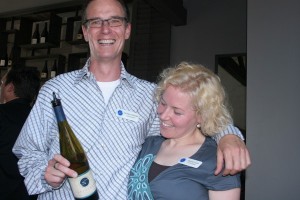 Thanks to the 100 or so friends who showed up to celebrate the upcoming opening of Garagiste Healdsburg. Garagiste Healdsburg is a cooperative micro winery and tasting room we built with Stark wine. The space is looking great and we now know we can handle a crowd with a little help from our friends. How many of your facebook or twitter friends can you see in this 30 sec video clip?
(Photo credit: Christian Kallen)
Click here to see the whole evening fly by in 30 seconds - Video
After our Grand Opening Celebration we'll be open Thurs - Monday 11-6pm and Tues/Wed by appointment
Hope we see you soon.
Alan
Comments
Commenting has been turned off.