September 12, 2013 | Alan Baker
2013 Pinot Noir
It's almost unfathomable that every last Cartograph Pinot Noir grape from the 2013 vintage was in the tank by Sept. 11. We knew that we were in for an early season, but to pick every lot of Pinot in an 11-day stretch is pretty amazing—and pretty cool, really.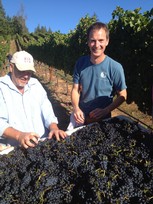 Some years you have the luxury of picking a vineyard, getting that wine on its way, then focusing on the next pick. This year, once we started picking, I was out early each day to get samples from far-flung vineyards, then headed back to the winery to check on the juice and do all the prep that's necessary to nudge fermentations along slowly on their way to becoming wine. Then it was grab a bite, get a little sleep, and bolt out early to do it all again or ride the tractor for a pick.
It's hectic, but I'm not complaining. I love bounding around wine-country back roads while the countryside is alive with harvest activity. The energy is great and I'm always blown away both by the beauty of where we live and by the wonderful people with whom we get to work. Watching the sun rise over pine-topped ridges or looking down from those ridges as deep fog coils in the valley below is an experience like no other . . . and there are few places I'd rather be than on the tractor at 5 a.m. with a big moon in the sky and ice-cold grapes filling the bins.
I'm a lucky guy. Getting through a few sleepless weeks is a small price to pay for all the wonderful things that harvest brings.
Cheers,
Alan
Comments
Commenting has been turned off.