Experience Cartograph Wines
Come discover the essence of Sonoma County wine country at the Cartograph tasting room, located just one block north of the Healdsburg Plaza.
Cartograph is known for small-lot, elegant Pinot Noir; dry Alsace-styled white wines; and sparkling wines from acclaimed Northern California appellations including the Russian River Valley and Mendocino Ridge. Owners Alan Baker and Serena Lourie designed and built the tasting room to be the culmination of this region's legendary wine experience, bringing guests together in a modern and welcoming space that spotlights masterfully crafted wines available by the glass, by the bottle or on tap.
See below for our update on COVID-19.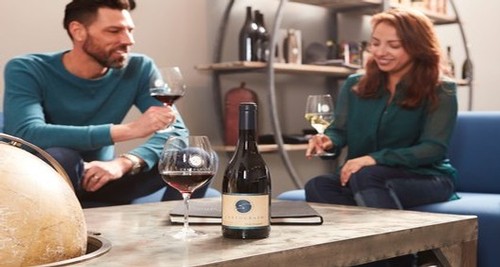 340 Center Street, Healdsburg, CA
Open daily, 11 a.m. – 5:30 p.m.
707.433.8270
Get Directions
---
Upcoming Events
In the heart of wine country just off the Healdsburg Plaza, Cartograph is offering special tasting events to explore Pinot noir in depth. These experiences take place at the Cartograph tasting room in Healdsburg and the Russian River Valley estate vineyard.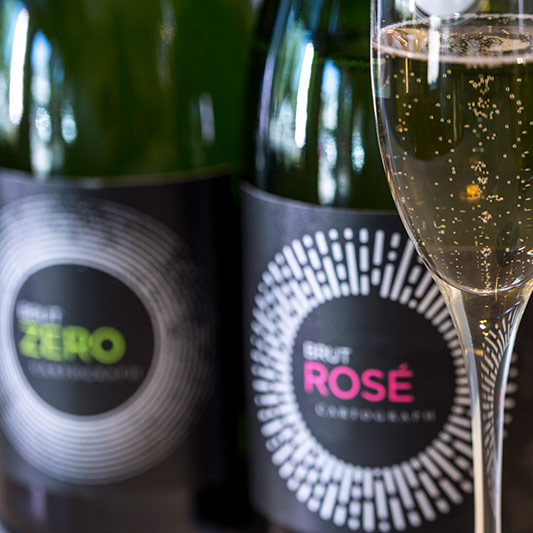 The 2019 Rosé of Pinot Noir Has Arrived
Available online and via pickup, delivery and shipping
The new Rosé of Pinot noir is finally available! We've been tapping our fingers waiting for this wine to be ready. In the tasting notes, you'll see what we've been pairing it with; it's a great wine for summer, as it pairs with everything from seafood and vegetables to white meats and spicy red-meat dishes.
Spring Release Wines
Available online and via pickup, delivery and shipping
In addition to the Rosé, we released three Pinot noirs. Now that Cartograph Circle members have received their spring wines, we're releasing them widely.
2019 Rosé of Pinot Noir
2018 Russian River Valley Pinot Noir
2018 Cartograph Estate Clone 667 Pinot Noir
2018 Cartograph Estate Clone 777 Pinto Noir (sold out)
F2016 Transverse Pinot Noir
Summer Shipping
May 11 - Oct. 31, 2020
UPS Next-Day Air: UPS has discounted the next day air pricing in orderto allow us to ship wie safely during the summer warmer temperatures. UPS picks up the wine in a refrigerated truck and ships it the same evening to arrive the next morning. We'll ship on Mondays, Wednesdays and Thursdays.
Pick Up & Delivery
Ongoing
Delivery: If you live anywhere between Cloverdale and Petaluma, we'd be happy to deliver wine directly to you! Contact Andi at 707.239.9933 or andi@cartographwines.com to set up a time.
Pickup: We can arrange curbside pickup at the tasting room, 340 Center St. in Healdsburg. Contact Andi at 707.239.9933 or andi@cartographwines.com to set up a time. When you arrive, open your trunk or car door and text Serena (415.994.1889); she'll bring the wine to your vehicle.
Estate Vineyard Tours
Summer 2020
Details coming soon.
End of Harvest Celebration Luncheon
Sat. Nov. 7th at the Tasting Room & Valette Restaurant
Details and RSVPs will be released in fall.
---
COBID-19 Update
Updated May 26, 2020
In accordance with the Sonoma County shelter in place directive, the tasting room is temporarily closed. We did forward the phone to our cell phones so you can reach us every day from 10:30 - 4p and we are happy to answer questions and help with any shipping orders you may have. Thank you for your support!
Curbside pickup and local delivery: If you want to schedule a pickup, contact Andi at 707-239-9933. Alternatively, you can put in an order online and we'll contact you to set up a pickup or delivery.
Shipping wine: If you want to receive wines via UPS, you can put in your order online and Serena will ship it to you or contact Tara at 707-591-5497 and she will set it up for you.
Re-opening: We look forwrd to seeing you again! Please know that we are adopting guidelines from the CDC, State of California and Sonoma County to make our tasting room safe and accessible. As such, we will be re-open with tastings by appointment only. Once we have a greenlight, you will be able to make a tasting reservation on our website.