Wild Mushroom Pizza with Caramelized Onions, Fontina, and Rosemary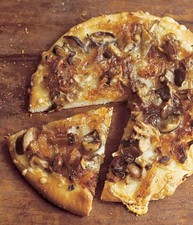 Recipe Date:
September 13, 2012
Measurements:
Imperial (US)
Ingredients
7 tbsps butter
2 1/2 tbsps grapeseed oil
3 onions, thinly sliced
2 lbs assorted wild mushrooms, cut into bite size pieces
6 garlic cloves, minced
2 tbsps shallot, minced
2 cups dry white wine
1 tbsp fresh rosemary, minced
1 pizza dough
cornmeal, for dusting
4 tbsps garlic oil
3 cups grated Fontina cheese (about 10 oz)
Directions
Pairing Notes: Mushrooms, carmelized onion and salty cheese ... a delicious combination with Pinot.
Serena's Tip: Even if you cut the recipe in half to reduce the quantity of pizzas, carmelizing the onions will still take about 40 minutes. You can also substitute the pizza dough with whatever your favorite pizza dough recipe is or use a frozen pizza dough. And, you make the onions in advance and just rewarm them for the pizza.
Recipe courtesy of Woodfire Grill in Atlanta, GA via Bon Appétit
Photo courtesy of Noel Barnhurst